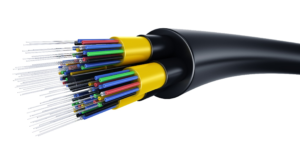 The increasing demand of capturing all the sights and sounds of sports events from all angles and multiple locations inside and outside a live event venue has necessitated increased levels of cabling infrastructure.
To maintain robustness and the required high availability of this infrastructure, there is a need to maintain the cabling runs, connections, and access for the venue. Live-event venue broadcast cabling infrastructure includes all permanently installed cable running from the truck dock input/output (I/O) connection panels to each of the broadcast panel junction boxes (JBT) throughout a venue for the purpose of facilitating connectivity for broadcasting live events.
The ability to transport multiple signals with high bandwidth capacity per strand in a lightweight cable makes fiber-optic cabling a robust medium for broadcast. Fiber infrastructure is now the most important and critical part of broadcast cabling for a venue and therefore requires particular attention.
CP offers broadcasters and venues the most comprehensive resource for fiber optic equipment & engineering services.