Esports with CamSTREAM
Deliver rich game-viewing experiences with the only all-in-one remote production and streaming solution.
Fast, Easy Setup
The Red House Streaming CamSTREAM system from CP makes it incredibly simple and cost-effective to shoot and stream live video remotely. Just connect CamSTREAM to power and turn it on. The system automatically calls home, and within minutes you're ready to live stream your gaming competition or other live event.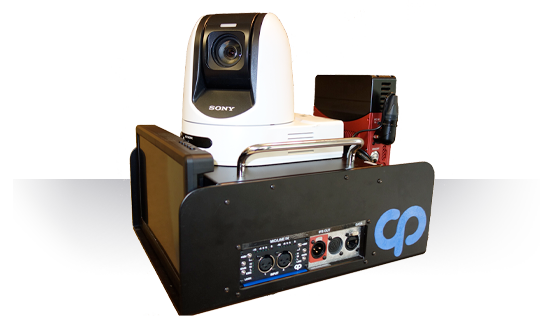 Broadcast-Quality Video & Audio
True broadcast-quality video at resolutions up to 1080p60 is captured by a Sony SRG-360SHE HD PTZ camera, along with up to two channels of remote-controlled audio. Remote camera control and shading allows technicians at the studio or in the control room to make adjustments on the fly to assure ideal coverage.
Onboard Encoding
All RHS STREAM solutions are powered by Mobile Viewpoint (MVP) encoding technology. CamSTREAM features an MVP Agile AirLinkH.265 encoder that supports live streaming over Ethernet, Wi-Fi and 4G/5G cellular networks to enable connectivity from virtually anywhere.
Cloud-Based Management & Control
MVP's LinkMatrix cloud-based management and control system serves as the central monitoring unit. Its user-friendly architecture assures that the remote-control GUI is the same in the field and the studio, facilitating true remote support.
Stream Directly to Any URL
With an optional MVP Playout 2K4 decoder located in your studio, feeds from up to four CamSTREAMs can be received and played out to HD-SDI or NDI, and simultaneously streamed to any social media platform, website or URL — making it easy to reach gamers around the globe.
Download the Solution Brief