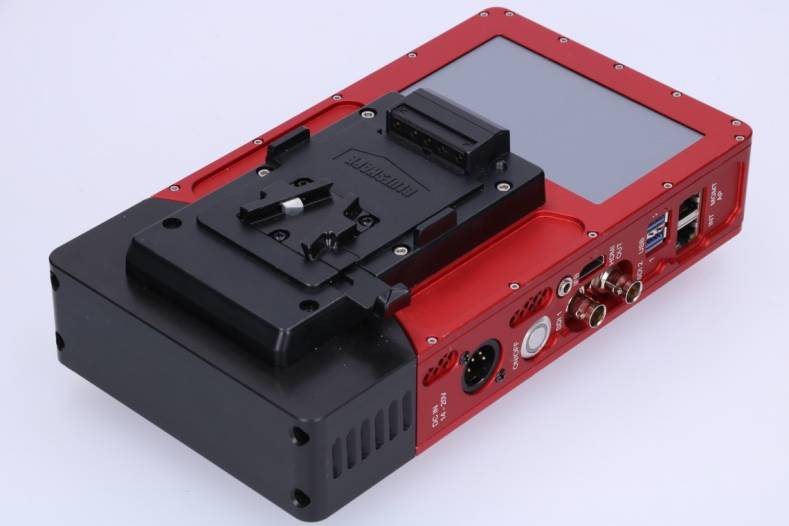 ​Mobile Viewpoint Launches Agile AirLink 4CK
April 13, 2019
The product is claimed as the first 4K and multicamera-enabled mobile encoder. It fits onto the back of a camera.
"The Agile AirLink 4CK is the broadcast equivalent of a modern outside broadcast (OB) van, delivering live video content in UHD quality," claims the Dutch company. The solution can support four live video streams, and delivers the 4K streams using Mobile Viewpoint's cellular mobile channel bonding technology. Its ultra-thin design means it can fit onto the back of a camera or in a backpack.
The product has four synchronised SDI inputs for live streaming, where the bandwidth of each individual input can be controlled. The solution also has return vision and intercom, acting as a mobile remote production system. Alongside the SDI inputs, users can also record on an internal, solid-state disk. Agile AirLink 4CK supports both H.265 and H.264 encoding, ensuring complete end-to-end compliance using standard-based decoders.
"We are committed to ongoing research and development at Mobile Viewpoint, and the addition of the Agile AirLink 4CK to our portfolio is a shining example of how we innovate and bring new solutions to market to continually meet our customers' requirements," said Michel Bais, CEO of Mobile Viewpoint. "This solution essentially gives broadcasters and content producers the functionality of a full production system that fits into the palm of a hand. We were excited to debut this new, revolutionary product at NAB, showing the industry how they can utilise our ground-breaking products to deliver low cost, high quality, live video on the move."
About CP Communications

For more than three decades, CP Communications has provided high-quality, cost-effective live event production solutions to major broadcasters, sports leagues and teams, and event and production companies. Our solutions include access to experienced professionals, state of the art equipment, and innovative technologies and techniques for wireless audio & video content acquisition, transport and delivery. Our culture of innovation, coupled with the highest quality assurance standards and passion for customer service, promote collaboration with our clients to determine the best custom solution for each live event.