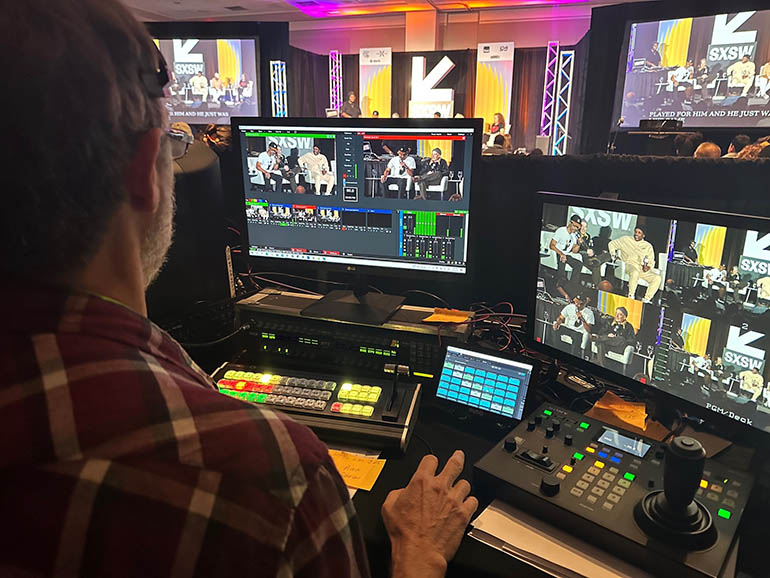 CP Communications and Red House Streaming Expands Haivision Makito Inventory
May 3, 2023
Haivision's latest real-time video networking solutions improve channel density, signal latency and more for SXSW 2023, diversify encoding and decoding options for CP and RHS customers
St. Petersburg, Florida, May 3, 2023 — CP Communications and its subsidiary Red House Streaming have added Haivision's latest Makito real-time video networking solutions to its live production and streaming inventory, providing its customers with the latest premium SRT-enabled encoder and decoders for high-quality, low-latency live production. CP and RHS have already used their new Haivision Makito X4 video encoders and decoders at the South By Southwest (SXSW 2023) festival in March, and will populate Haivision MB6 enclosures with Makito X4 solutions for this month's USATF Bermuda Grand Prix track and field event (May 20-21).
CP and RHS have aggressively diversified its portfolio of networked encoders and decoders over the last several years to fulfill specific customer requirements based on each event and application. For SXSW 2023, CP and RHS technicians used Haivision Makito X4 solutions to ensure reliable production in the cloud using an Amazon Web Services (AWS) instance. CP and RHS supplied live video feeds of concerts, lectures and other performances from the event's main ballrooms and breakout rooms. For the USATF Bermuda Grand Prix event in Devonshire, Bermuda, CP and RHS work with Carr-Hughes Productions on the live production, and use the public internet to encode and decode streams over a local area network.
"Most of our major sports and live event production clients request Haivision because of the very reliable, low-latency service they offer for H.264 and HEVC video transport over unpredictable networks," said Kurt Heitmann, CEO of CP Communications and Red House Streaming. "As the original developers of the SRT protocol, they understand how to best optimize video streaming performance over networks of varying quality and design. The Makito X4 adds Haivision's latest improvements in forward error correction, latency and format flexibility, while their multichannel MB6 frames increase channel density and system modularity to properly service each event."
CP and RHS acquired Haivision's new MB Series MB6 enclosures at the same time, with Heitmann noting that the frames are flexibly shared across their trucks and flypacks. "These gives us outstanding density for our REMI flypacks," he said. "The blades come with a dropdown case, and we can easily mix our older Makito and new X4 solutions in the same chassis. Everything is interchangeable, which makes them very useful for our own technicians working from our trucks."
Heitmann adds that CP and RHS are not just a Haivision house; they fulfill a need for a specific service level. CP and RHS also offer Aviwest, Kiloview, Mobile Viewpoint and Videon networking solutions. Aviwest solutions were used for several major golf productions this spring, including the 2023 ACC Women's, ACC Men's and Big 12 Men's Championships.
"We can cover every stream across our inventory, including HLS, RTPM, SRT and RTSP," he said. "For example, Videon allows us to offer a premium WebRTC encoding option, which pairs perfectly with our self-designed FastReturn system." FastReturn is a remote production platform that uses cloud-based technology favored by popular videoconferencing platforms to stream live, multi-camera feeds to any device with less than 400ms of latency. FastReturn can also spin up edge servers around the world that are geographically closer to the production to provide even lower latency and better reliability.
About Red House Streaming
Red House Streaming supports, enables and simplifies the creation and delivery of broadcast quality media content. Powered by CP Communications, Red House Streaming (RHS) provides custom glass-to-glass IP production and streaming solutions for every type of live event or recorded program. With our solutions, you can bring unmatched efficiency to your operation, enabling superior live video streaming without the need for costly satellite uplink equipment or airtime. Whether you shoot at our studio or remotely, RHS makes producing and streaming content easier and more affordable than you thought possible. Learn more at www.redhousestreaming.com.
About CP Communications

For more than three decades, CP Communications has provided high-quality, cost-effective live event production solutions to major broadcasters, sports leagues and teams, and event and production companies. Our solutions include access to experienced professionals, state of the art equipment, and innovative technologies and techniques for wireless audio & video content acquisition, transport and delivery. Our culture of innovation, coupled with the highest quality assurance standards and passion for customer service, promote collaboration with our clients to determine the best custom solution for each live event.