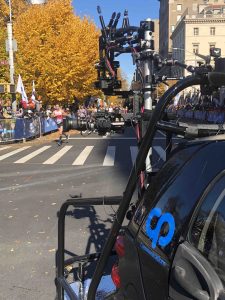 CP Communications Launches Red House Streaming Business Unit for IP Acquisition and Bonded Cellular Coverage at NYC Marathon
November 28, 2018
Specialized smart cars with content acquisition and streaming technologies play key role in achieving 100 percent video and audio coverage through the five boroughs
New York, NY, November 28, 2018 — CP Communications, a leader in innovative solutions and services for complex live event productions, and its just-launched Red House Streaming business unit took to the streets of New York City on November 4 to manage end-to-end content acquisition for the TCS New York City Marathon. The crew achieved 100 percent video and audio coverage of the men's and women's races across all five boroughs, unleashing a comprehensive IP and bonded cellular network across the 26.2-mile race course for the first time.
The IP content acquisition strategy utilized four Smart® cars, four motorcycles, and other special motorized systems (including two POV wheelchairs) outfitted with cameras and Mobile Viewpoint bonded cellular solutions. These were all networked for transport to CP Communications' flagship HD-21 RF truck. All signals were received and processed on HD-21 before being passed to the NEP ESU broadcast trucks at the finish line, which produced world feed uplinks as well as local and national television feeds.
Now in its 48thyear, the TCS New York City Marathonis considered the largest marathon in the world, with more than 50,000 participants in this year's race. Starting in Staten Island, the racers wound their way through Brooklyn, Queens and The Bronx before finishing in Manhattan at the southern edge of Central Park.
According to CP Communications CEO Kurt Heitmann, his team took into consideration areas with cellular coverage challenges along the course, particularly where large spectator crowds could potentially overtax cellular networks. In addition to areas near the crowded starting line, cellular coverage was expected to be challenging along the Verrazano-Narrows Bridge heading into Brooklyn. These required careful attention to ensure no video and audio signals were lost.
"The core of our operation comprised three main sites; at the starting line in Bay Ridge, near the Millennium Hotel in Manhattan and at the finish line. In addition we had three highly robust unilateral IP streaming sites in Brooklyn, the Bronx and Manhattan. We utilized nearly 600 unique IP addresses from Brooklyn through the Bronx coupled with a MIMO mesh network across the Verrazano Bridge to backfeed internet to our Smart® cars and deliver intercom as well as other services," said Heitmann. "We added COFDM traditional microwave receivers to get the coverage we needed off of the bridge, due to the limited cellular coverage, and deployed COFDM near the finish line for the same reason. That safeguarded our operation for the first and last mile of the race, in the event that limited cellular coverage caused the signals to drop.
"We were extremely pleased that the strength of the network architecture allowed us to stay purely in IP through to the finish line after crossing the Verrazano-Narrows Bridge," he continued. "In the end, we carried bi-directional video and bi-directional audio from 11 cameras and 240 intercom ports over IP and bonded cellular, with Mobile Viewpoint solutions providing the robust compression we needed to optimize bandwidth and deliver exceptional video quality. This was a first for the New York City Marathon, and a big step up from our past coverage strategies."
About CP Communications

For more than three decades, CP Communications has provided high-quality, cost-effective live event production solutions to major broadcasters, sports leagues and teams, and event and production companies. Our solutions include access to experienced professionals, state of the art equipment, and innovative technologies and techniques for wireless audio & video content acquisition, transport and delivery. Our culture of innovation, coupled with the highest quality assurance standards and passion for customer service, promote collaboration with our clients to determine the best custom solution for each live event.