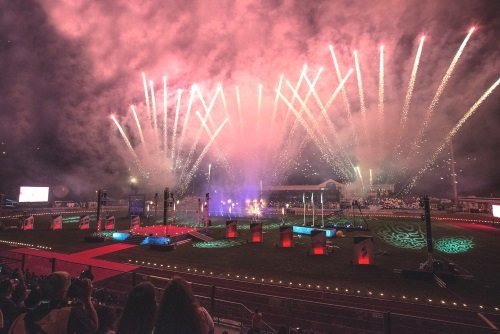 CP Communications Partners With K-array USA
April 17, 2019
Florida-based live event production company announces a new distribution partnership with K-array for live and installed sound.
By PSW Staff
CP Communications announces a new distribution partnership with K-array for live and installed sound. The partnership will initially focus on the Florida market where CP Communications is headquartered, with expansion to other states and regions in alignment with business growth.
K-array's unique designs and diverse range of loudspeakers, amplifiers and other audio systems appeal to a broad customer base in commercial AV and live performance, among other verticals. These attributes are especially appealing to CP Communications as the company expands its live production strategy from its core sports and broadcast market to corporate events, concerts and worship events, and an array of at-home productions.
CP Communications will offer K-array solutions through rentals and direct sales, in addition to using them for their own productions.
"I have worked both for and with CP Communications over many years, and their reputation for supporting the world's largest sports events with professional content acquisition and live production services is unparalleled," says Rusty Waite, president, K-array USA. "As CP Communications moves deeper into the commercial AV market with new products and services tailored for these verticals, we believe that this partnership makes excellent business sense that will pay dividends for both companies and our customers."
CP Communications CEO Kurt Heitmann shares that the low profile and portability of many K-array solutions make them ideal for rentals and their own productions that require temporary sound. K-array solutions are durably constructed with stainless steel and offer sleek designs that can be installed in corners and tight spaces, offering exceptionally high performance, intelligibility and audio quality. The company also provides high-efficiency solutions for large concert systems of stadium events serving more than 50,000 fans.
"Our association with Rusty goes back many years as part of our CP Communications team, and the opportunity to work with him and such a high-quality product line was the right move as our live sound needs to grow," says Heitmann. "We look forward to aggressively promoting and supplying K-array products and solutions as part of our expanding portfolio of distributed and homegrown solutions."
CP Communications will promote K-array products alongside other solutions, including its own STREAM family of content acquisition systems, at the upcoming InfoComm Show (June 12-14, Orange County Convention Center, Orlando, Florida). A first-time exhibitor, CP Communications will exhibit at Booth 4877. K-array USA also exhibits separately at Booth 7189.
About CP Communications

For more than three decades, CP Communications has provided high-quality, cost-effective live event production solutions to major broadcasters, sports leagues and teams, and event and production companies. Our solutions include access to experienced professionals, state of the art equipment, and innovative technologies and techniques for wireless audio & video content acquisition, transport and delivery. Our culture of innovation, coupled with the highest quality assurance standards and passion for customer service, promote collaboration with our clients to determine the best custom solution for each live event.